Our Staff's Top Picks
Top Picks
Want to see the city like an insider? Check in with the staff of our bayside hotel in San Diego - some have been working their magic with guests for 40 years! They're San Diegans who love everything about their hometown, from favorite restaurants to music festivals to Padres baseball. You'll find their best San Diego travel tips and insights every month, right here.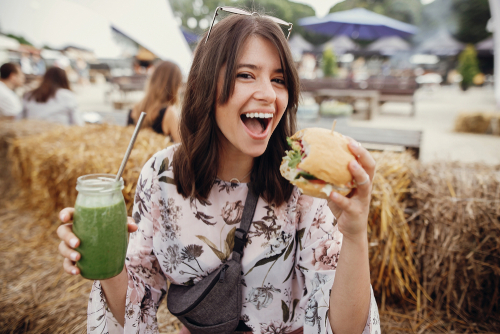 San Diego Food and Drink Festivals
Spring in San Diego means the start of warmer days, and there's no better way to celebrate sunnier days than with food. Luckily, San Diego will never have a shortage of gourmet food and drink festivals that are sure to please any foodie. This Spring, there are several great ones rolling through town so make sure to check some (or all) of them out during your stay at Wyndham San Diego Bayside.
First, mark your calendars on April 5 and make your way to Waterfront Park for the San Diego Vegan Festival. Explore the depths of flavors that professionally crafted vegan food can bring and make sure to come hungry.
Next, you'll want to pack some antacids because there will never be a shortage of hot sauces at the San Diego Tequila and Taco Music Festival. April 25 will be a day of sampling home-made tacos and sipping on top-shelf tequila so add Embarcadero Marina Park North to your travel list.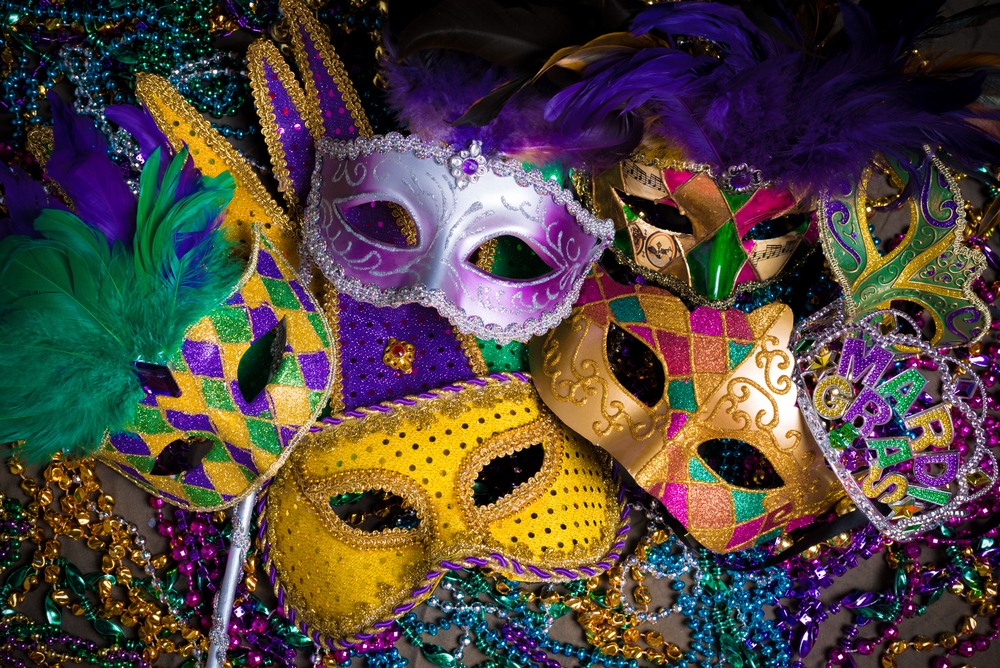 Mardi Gras in San Diego
The best parties around are the ones that let you lose yourself to the atmosphere and forget the rest of the world. With Fat Tuesday right around the corner, it's almost time for the best such party of the year - Mardi Gras! You don't have to be in a swamp to enjoy this one-of-a-kind celebration because San Diego's Gaslamp Quarter is bringing all the fun to your doorstep.
Since Fat Tuesday, surprisingly, falls on a Tuesday, the Mardi Gras festivities will begin on Friday, February 21 with a large block party. Local clubs, restaurants, and bars will be themed and ready with beads on hand. Party as much as you want, but save some energy because this is just day one.
The three-day festival will resume on Saturday with the Big Easy Bites & Booze Tour. Join your friends and hundreds of other locals and visitors alike as you sample your way through the Gaslamp Quarter. Local establishments have partnered up to create 20 unique "bites and sips" that you will get to taste with your ticket. Fill your night with music, dancing, and live performances.
The final day of revelry will be on Fat Tuesday itself. Most of the local businesses will save the best for last, so get ready to end the festival with a bang. Whether you come for one day or all three, make your way over to enjoy local performers, dress up in your masquerade best, and let the beads start rolling.
Say Hello to Little Italy
Nestled to the west of the San Diego Zoo lies a quaint part of town called Little Italy, and is a must-see for anyone visiting San Diego. From cozy restaurants to busy Italian markets and everything between, Little Italy has it all.
Visitors of Little Italy will find a nice blend of modern San Diego and rustic Italian roots. Some of San Diego's best wineries and craft breweries are found in Little Italy but so are warm, homey restaurants serving up spaghetti and meatballs just the way grandma used to. This close to the ocean you may even find a seafood medley with grilled octopus. When you're done eating, shop on a full stomach and stock up on authentic groceries from Mona Lisa Italian Foods deli.
The center of Little Italy is considered to be the larger plaza, Piazza della Famiglia. Guests can enjoy a tiled fountain and cobbled streets that will feel like a small Italian market. Multiple vendors, shops, cafes, and restaurants call this plaza home and will make you feel like you can as well. For a taste of Italy right in San Diego, look no further and make your way to Little Italy.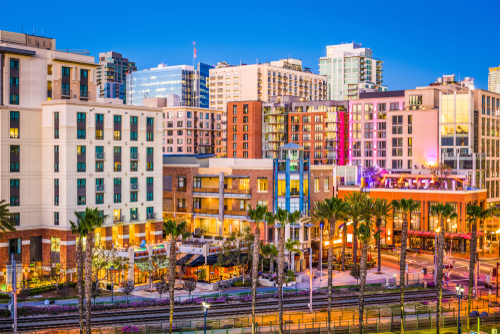 See the Heart of the City in the Gaslamp Quarter
San Diego has a rich history and is a vibrant cultural hub in Southern California. One great way to experience this booming culture is by visiting the Gaslamp Quarter. This lively 16-block part of San Diego always has something going on.
The Gaslamp Quarter is full of Victorian-style buildings and is often described as the hip place to be in San Diego. Visitors will find dozens of chic stores and foodie-friendly restaurants to experience. People-watch from one of the many cafes or rooftop bars and learn for yourself what the locals are like. For night owls, the Gaslamp Quarter is home to some of the most famous bars and clubs around, and there's never a shortage of activities.
Whenever the city of San Diego hosts a special event, there's a good chance that it will be in the Gaslamp Quarter. Such a busy, energetic place will have limited parking, so consider walking over or using public transportation to get around easily.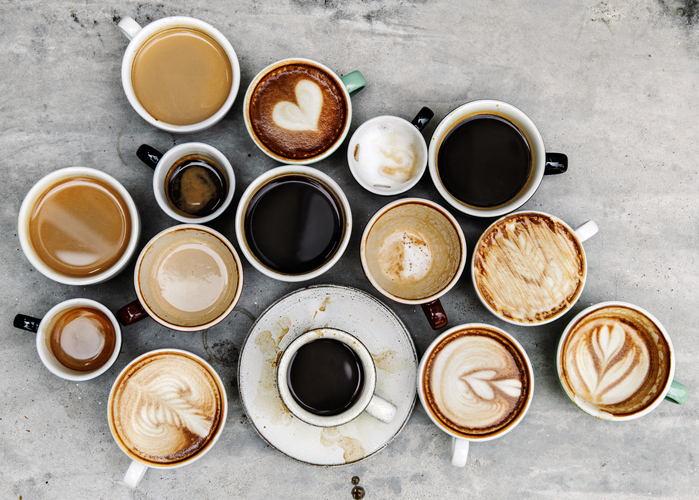 Discover the Best Coffee Around at Cold Brew City Fest
If you find yourself constantly scanning around for a new coffee shop, you're probably wondering why the best brews can't just come to you. Luckily, that's all about to change! Cold Brew City Fest 2019 is returning for another year of celebrating one of the best kinds of coffee around and showing you how professionals brew.
Cold brew coffee is a less acidic and unique tasting cousin to regular drip-brewed coffee. There's a reason why it has become one of the most popular types of coffee and is constantly showing up in new ways at all great coffee shops. What better way to try the best cold brew around than with a little competition.
On November 16, from 1:00 pm to 5:00 pm, Cold Brew City Fest is bringing the top cold brew artists to you. Help crown a new champion and taste all the cold brew you can! There will also be over 20 vendors, local artwork, live music—so make a day out of it!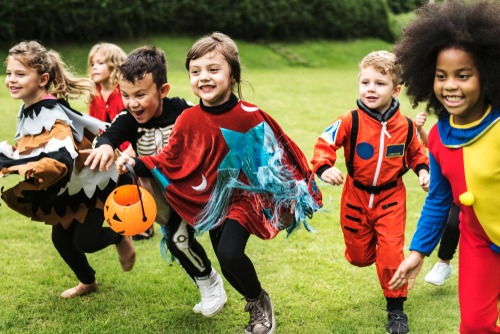 Spend the Day at Balboa Park
San Diego prides itself on the juxtaposition of high-energy city life and relaxing scenery. If you're looking to include a bit of the latter into your trip, we know the perfect place. Just minutes from Downtown San Diego lies one of the largest cultural hubs of the city: Balboa Park.
Balboa Park is an immense section of San Diego that is home to over 16 of the city's fines museums and multiple performing arts venues. The park is brimming with greenery and includes several walking and biking trails, carefully tended gardens, and over 1,200 acres of other planted greenery.
Throughout the year, Balboa Park hosts many family events. This October, the must-see event is Halloween Family Day. Halloween Family Day is returning for its 11th year at Balboa Park and will take place on October 26 from 11:00 am to 4:00 pm. The walkways will be filled with live performances, music, games for the kids, food trucks, and dozens of other activities. If your family is looking for some pre-Halloween excitement, this is the place to be.
Tour a Unique Piece of History
It's very rare to find a museum that is also its own exhibit, but visitors and residents of San Diego are in luck: the USS Midway Museum lives here. The USS Midway is a ship merely by name because once inside, it feels like a floating city. With guided tours, dozens of exhibits, events, and free-roaming capabilities, there's no better time than now to experience a living piece of history.
The USS Midway was first commissioned one week after the end of World War II and was named after the iconic battle in the Pacific. It spent its life touring the world during the Cold War and was a primary naval base during the Vietnam War. Museum guests can access over 30 restored aircrafts and peruse 10 acres of displays and various exhibits. If you've ever wondered just how cramped battle helicopters can get and what the inside of antique jets looks and feels like, then you're in the right place. Grab your tickets today and make sure to add this local gem to your San Diego to-do list!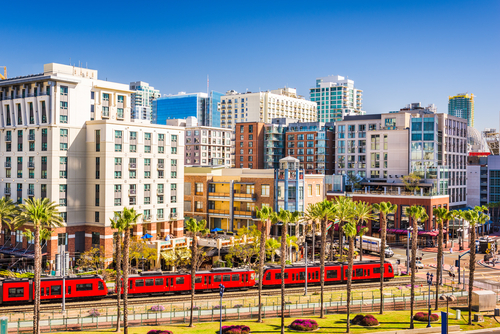 Experience San Diego in Style with a Hop On Hop Off Trolley
San Diego is a bustling city with a diverse history and even more diverse residents. Exploring a big city by yourself is always fun, but it can become challenging to learn about what you're seeing. As a visitor, you naturally want to experience all that you can, see all there is, and educate yourself along the way. One of the best ways to do this is with a hop-on, hop-off trolley tour.
The San Diego Tour allows you to tour the city at your pace and spend as much or as little time as you want at every location while also receiving top-notch commentary about the city along the way. The trolley route runs through 10 stops that are all near some shopping center, restaurant, or attraction. Passes can be for one or two days so you will never feel rushed! The routes will be run all day until closing time and there's no better way to learn the city's history while still exploring at your own pace.
Summer Fun at Belmont Park
Summertime and amusement parks go together like rollercoasters and lost hats. This summer, as you explore San Diego to see what it has to offer, make your first stop Belmont Park. Belmont Park is here to bring you all of the rides, attractions, and snacks you can handle.
Start your relaxing day by blasting off in the Giant Dipper Roller Coaster or hang on tight as you whirl around the Beach Blaster. Slam into friends with the Overdrive Bumper Cars or ruin a stranger's day on Krazy Kars. When you need a break from the rides, grab a refreshing smoothie or bite to eat. Quick snacks like street tacos and burgers are always available as well as full restaurants if you really need a break. Admission is free and the motto is "pay as you play," so make your way down and take advantage of summer.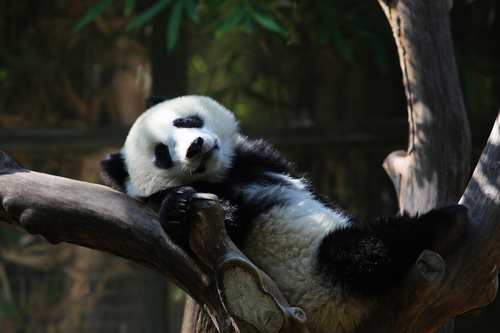 Get Wild at the San Diego Zoo
Every year, the San Diego Zoo attracts tens of thousands of visitors from all around the world and for good reason - a large diversity of rare, amazing animals. The zoo itself is large enough to make you feel like you're at an amusement park. If lions, rhinos and giraffes are right up your alley, then come experience their natural beauty first-hand.
San Diego Zoo has been called the best zoo in the world and boasts one of the largest and most diverse collections of animals in the world. It is one of a handful of zoos in the U.S. that has pandas so you will have the opportunity to see these goofy giants up close and personal - their babies too!
Starting June 16th, San Diego Zoo will also be hosting a daily event called Nighttime Zoo. Guests can enjoy extended hours and an assortment of live musical acts showcasing unique instruments and performers from far away parts of the world. In addition to the living main features of the zoo, there are also sky trams, 4d theater experiences, bus tours, and safaris so definitely plan to make this trip an all-day event!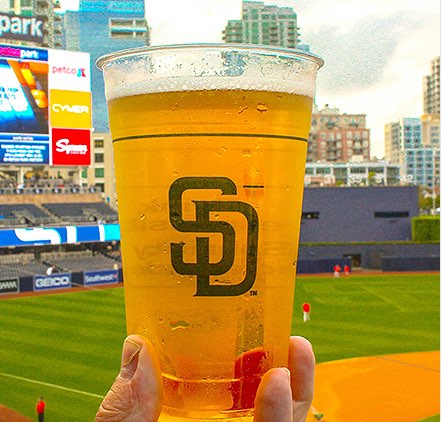 Baseball + Beer, Right On Cue
The San Diego Padres are brewing up extra summertime fun in Petco Park this season: a series of five BeerFests for San Diego's beer-loving baseball fans. Look for more than a dozen San Diego breweries to be on hand for each BeerFest, where they'll serve 12-ounce "samples" for $5. Sip from 4:30 pm until the first pitch at 7:10 pm.
We scored the line-up of Friday BeerFests so you can plan accordingly. Best of all admission is free with your ticket to the game.
March 29, 2019 - Padres vs San Francisco Giants

May 3, 2019 - Padres vs Los Angeles Dodgers

June 28, 2019 - Padres vs St Louis Cardinals

July 26, 2019 - Padres vs San Francisco Giants

August 23, 2019 - Padres vs Boston Red Sox
Still thirsty? You'll find San Diego's favorite local breweries well represented inside Petco Park, including Ballast Point, Iron Fist Brewing Co., Coronado Brewing Co., Mike Hess Brewing, and many more.
Cheers!